Better Websites with ConcreteCMS
Powerful, easy-to-use websites. ConcreteCMS provides you with a modern, flexible website administration system that is easy to edit and make updates.
Go to any page in your site, and an editing toolbar gives you all the controls you need to update your website. Grow your website, grow your business.
In Context Editing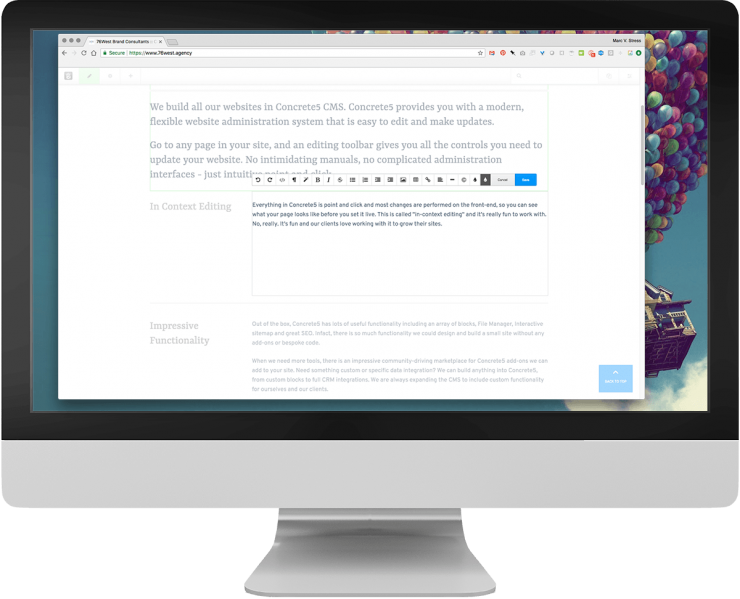 Everything in Concrete5 is point and click and most changes are performed on the front-end, so you can see what your page looks like before you set it live. This is called "in-context editing" and it's really fun to work with. No, really. It's fun and our clients love working with it to grow their sites.
Today, there are more than 779,116 websites using ConcreteCMS.
Impressive Functionality
Out of the box, Concrete5 has lots of useful functionality including an array of blocks, File Manager, Interactive sitemap and great SEO. Infact, there is so much functionality we could design and build a small site without any add-ons or bespoke code.
When we need more tools, there is an impressive community-driven marketplace for Concrete5 add-ons. Need something custom or specific data integration? We can build anything into Concrete5, from custom blocks to full CRM integrations. We are always expanding the CMS to include custom functionality for ourselves and our clients.
Manage and grow your site easily.
You want to market your products quickly and get new campaigns out there as fast as possible. By Using Concrete5, we create websites that can be quickly updated to meet all your marketing needs.
You will be able to add special offers and news articles within minutes or create landing pages for email and AdWords campaings, whilst viewing the front-end of your website in an easy "point and click" way.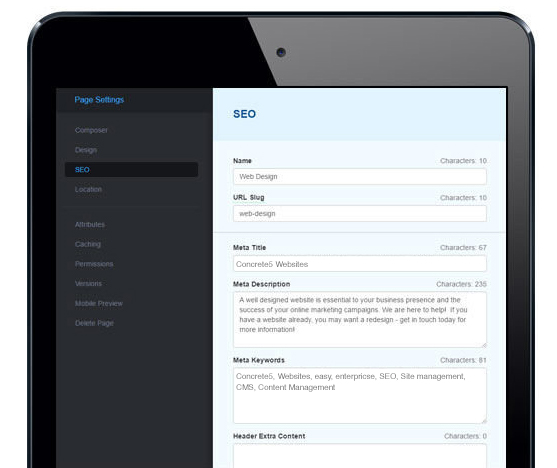 There is an old saying in SEO: "Content is King". This means is that building up relevant content is great in the eyes of the search engines and they will reward you by improving your ranking. You need a system that allows you to do that. Concrete5 is the answer! In Concrete5 you can also set your meta tags at the click of a button to help refine your SEO.
Concrete5 also automates important SEO tasks like keeping sitemap.xml updated to inform search engines of site changes.
---
About 76West Brand Consultancy

Brand Strategy
Brand Discovery
Brand Positioning
Content Strategy
Naming
Research & Insight Development

Brand Identity
Brand Guidelines
Business Systems
Content Development
Visual Systems

Brand Experience
Consumer Product Goods
Digital + Web
Email + Direct Marketing
Environmental
Mobile + Responsive
Print


Architecture Firms
Banking
Economic Organizations (EDOs)
Energy
Entertainment
Furniture Industry
Green Building
Higher Education
Insurance Companies
International
Manufacturing (B2B)
Medtech/Life Sciences
Museums
Not-for-Profits

Private Equity Firms
Professional Services
Renewable Energy
Retail
Software/Technology
State + Local Government
Venture Capital Firms
Contact Us
Contact 76West today to learn how we can make your website the central management point for your marketing and communications.
Top